ClearCorrect at your Cosmetic Dentist Kingsway
Removable Clear Aligners in Burnaby
Your cosmetic dentist Kingsway offers ClearCorrect aligners, which are a popular option for patients looking to straighter teeth without the restrictions of traditional wires and brackets. ClearCorrect aligners allow you to create a more beautiful, healthy smile, all while enjoying a low maintenance routine that gives you freedom and flexibility.
Find out today if you're eligible for ClearCorrect aligner therapy by reaching out to the experienced dental team at Mulberry Dental Clinic in Burnaby, BC.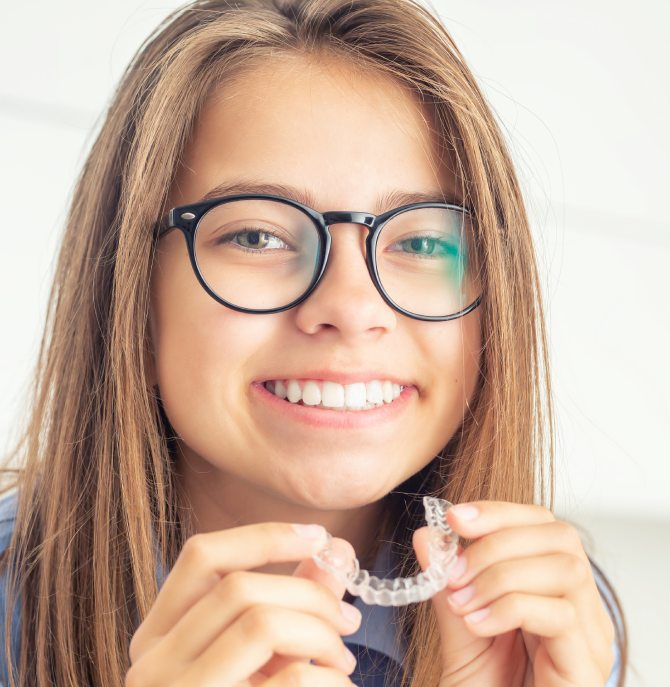 Your Cosmetic Dentist Kingsway Offers Comfortable Alignment for Your Teeth
The ClearCorrect system is designed to fit perfectly with your lifestyle, correcting your teeth over time without the hassle and pain of traditional orthodontic solutions, such as braces. Learn why many of our orthodontic patients are choosing ClearCorrect to achieve a straighter smile.
Freedom from Food Restrictions
Our patients enjoy being able to eat without restrictions during their ClearCorrect therapy. Your aligners can be taken out while you eat, and you can enjoy all the meals and snacks you normally would.
Straightforward, Easy Care
With ClearCorrect, you can enjoy a simple and quick dental care routine that doesn't include complicated tools or processes. Simply remove your trays and brush and floss your teeth as you normally would.
Smile Confidently Now and After Treatment
Another benefit of ClearCorrect is being able to enjoy a confident smile, even while your teeth are in the treatment process. The aligners are discreet, so most people won't even notice you're wearing them!
Stunning Results
We have seen many patients achieve confident, healthy smiles with ClearCorrect. Whether your smile needs just a few adjustments or you have more advanced orthodontic needs, ClearCorrect could be a great option for you. Find out today!
Your Cosmetic Dentist Kingsway Explains How ClearCorrect Works
Clear aligner therapy uses a series of thin plastic trays that fit over your teeth. Each tray is precisely customized to your mouth and teeth and is designed to create tiny shifts in your teeth over time. As you receive new trays, you will start to see changes as your teeth slowly shift into their new positions.
The advanced technology of the ClearCorrect system has been enhanced and perfected over time, ensuring that you are getting the absolute best results from clear aligner therapy. You also will have access to our friendly and knowledgeable dental care team at Mulberry Dental Clinic to guide you through each step of the process.
What to Expect
When you visit your cosmetic dentist Kingsway, at Mulberry Dental, a team of professionals will complete a thorough examination to ensure you are a good candidate for ClearCorrect clear aligner therapy.
Once we have determined that you are a candidate, we will use advanced technology to determine the start and end positions of each tooth. Your trays will be designed to shift each tooth as necessary a tiny bit each time you wear a new tray. Over time, these micro-shifts will add up to a straight, beautiful smile.
After creating a treatment plan, we will have your custom trays created. Once ready, you'll be able to pick up your first set of trays and start wearing them right away. Depending on your treatment plan's schedule, we'll provide you with new trays as you need them.
Keep in mind that you'll need to wear your trays every day for at least 22 hours per day to ensure you are getting the full benefits of the treatment and to keep your treatment plan on schedule. Our dental team at Mulberry Dental Clinic will check in with you regularly to ensure that your ClearCorrect alignment is going well and make any necessary adjustments to your treatment plan.
Book Your Consultation Today
Are you ready to begin the journey to straighter teeth today? Reach out to our team of dental professionals to learn more about ClearCorrect. We can provide you with a treatment plan, pricing, and a timeline so you know exactly what to expect. Book your consultation with our team of dental professionals today.
Book An Appointment With Mulberry Dental Today!